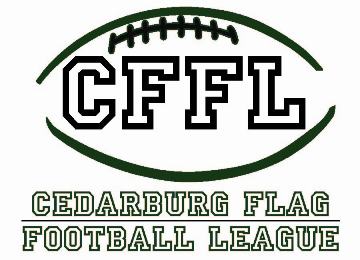 2023 Season Details
Play will begin the week of August 15th and conclude by October 14th. Practices and games will take place on Tuesday night each week with times ranging from 5:30-8:30pm.  The championship games will be played on Saturday October 14th.  Each team will play a minimum of 5 games.  Coaches may schedule additional practices on other days of the week by reserving a practice space through the Town.
Dry-wick jerseys featuring the player's last name on the back shoulders will again be provided this season!  All practices and games are dependent upon weather and field condition/availability.  Primary field locations are the Korb Sports Complex and OHOW Fields.
PARENTS, WE NEED YOUR HELP.  VOLUNTEER COACHES ARE NEEDED!
The recreation flag football program relies on volunteer coaches.  The Town will provide practice plans, a play book, and a volunteer preseason meeting for all coaches.  If you are able to help coach in any capacity, please contact Paul Jungbauer at pjungbauer@townofcedarburgwi.gov.
FREE CONCORDIA SKILLS CLINIC
Monday, August 28th 5:30-6:30pm.  This is a free clinic to anyone registered with the Cedarburg Flag Football Program.  The Concordia University Football team leads the participants through skills and drills, and the participants get to play in the Concordia University Football Stadium!
| 2023 Divisions | Eligible Ages | Fee |
| --- | --- | --- |
| Pee Wee | Grade K4-K5 | $60 |
| High School | 1st-2nd Grade | $60 |
| College | 3rd-4th Grade | $60 |
| NFL | 5th-7th Grade | $60 |
| | *** Grade is determined by the grade you are for the 2023-2024 School Year*** | |