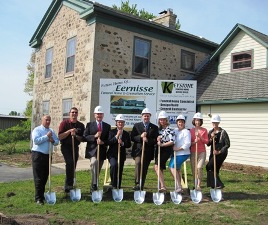 The Town of Cedarburg is open for business and eager to work with developers and business owners. The heart of the Town's business community is the Five Corners business district along State Road 60. Over 20,000 vehicles travel through this area daily and is ideally situated between Interstate 43 and Highway 45. Commercial, residential and mixed-use developments are well-suited for this area. Our economic profile illustrates the Town's unique attributes.
Available Properties
The Town offers excellent opportunities to grow or expand a business. To view available properties, click here.
Business Assistance
The Town recognizes that each development project has its own unique challenges. To help address these challenges, the Town is offering a toolbox approach whereby one or more of the following incentives may be offered:
Ozaukee County Revolving Loan Fund
Below-market land prices for Town-owned property
Shared parking on Town-owned property
Zoning and Town Code amendments
Refund of property taxes
Construct or financially support infrastructure
Expedited development/plan review and approval process
Utility assistance
Access & use of offsite stormwater facilities
Town staff assistance with regulatory agencies
Town staff assistance with common area maintenance
Ozaukee County Business Development Loan Program
Click here to visit the PWSB website for details.
Port Washington State Bank operates a business development loan program. The Ozaukee County Business Loan Program offers low-cost loans for up to $50,000.00 at a fixed rate and term. The purpose of these loans is to encourage new investment in your business and strengthen Ozaukee County communities by assisting with start-up and expansion costs.
Loans can be used for:
Redevelopment of blighted property and vacant facilities
Costs associated with environmental, safety, and/or building code compliance or development
Land or building purchases
Equipment purchases
Leasehold improvements (non-residential)
To learn more, contact Chad Piwoni at PWSB at 262-284-4416.
In-House Commercial Building Plan Review
The Town took steps in early 2015 to reduce the typical wait time for commercial building plan reviews. Beginning in March 2015, the Town's building inspector, rather than the State of Wisconsin, will now perform commercial building plan reviews and inspections for small building projects (new buildings and their additions totaling not more than 50,000 cubic feet and alterations affecting not more than 100,000 cubic feet). Switching the plan review to "in-house" will reduce the typical wait time from 3-5 weeks to about 1 week.
Testimonials
"My relocation experience to Cedarburg has been nothing but positive from the very beginning." - Bigler Sports Inc.
"It has been a pleasure to work with a community so supportive of our vision for the property." - Oxbo 9, LLC.
Watch a video on how the Town partnered with Henke & Associates to relocate to the Town.
Looking to start a business in the Town of Cedarburg, or to relocate here? Below are some links and resources to help you get started: